As per usual, news of the Belgian operations in AF is scarce, and this situation has in fact not very much improved since the introduction, about one year ago, of weekly overviews by the Belgian MoD, available in pdf on the Belgian Army site. Still, it's better than nothing. These are some nuggets found on the report issued on July 2nd, which covers the week
starting on June 24th
. I omitted paragraph 1, which dealt with the 300-strong contingent securing KAIA.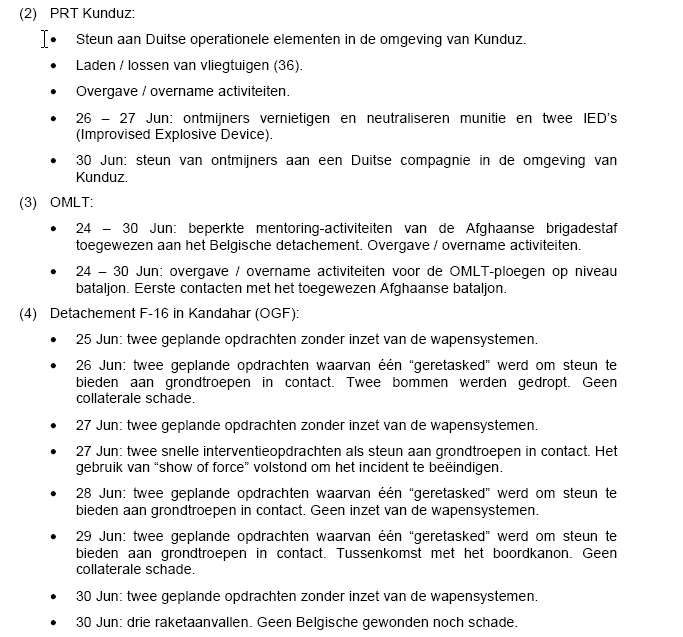 In short, for the PRT Kunduz, working closely together with the Germans in that region, there's amongst others talk about the EOD unit destroying and neutralizing ammo and two IED's on June 26th-27th. On the 30th the EOD personnel supported a German field unit.
The first photo shows a soldier from the PRT's EOD team neutralizing what seems to be an RPG round. The second one, an EOD member with one of our new Dingo's. When you look at these vehicles, it seems completely irresponsible ISAF soldiers were issued light Bombardier jeeps and landrovers for patrolling in the early years. Even so, I suspect Dingo's are not immune. I have been wondering whether an armored car with a V-shaped belly, not unlike the WWII-era German Sdkfz 222, would not be better suited to withstand IED's exploding right under the vehicle, since the blast would be deflected sideways under a certain ange. Check out the photos on that last link and you'll see what I mean.
As for the OMLT teams, between the 24th and 30th one was mentoring the activities of the staff of an ANA brigade. The other one was supporting a
kandak
, I assume that's an ANA infantry battalion. From the text, it would appear that the OMLT troop was assigned between the 24th and the 30th a new kandak to monitor ("
eerste contacten met het toegewezen Afghaanse bataljon
").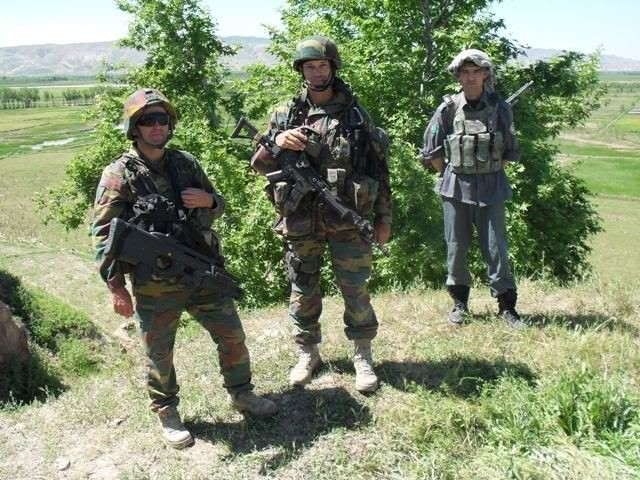 Soldiers from an OMLT team somewhere in Afghanistan's north. The Afghan to the right is possibly not an ANA soldier but someone from a village militia - at least that's what his outfit and headgear suggest. Notice the gun of the soldier on the left: it's an FN F2000 assault rifle, the version with the 40mm FN EGLM grenade launcher. The other trooper has the standard issue FNC assault rifle. Would love to have one of those.
To be sure, I have already read at least one complaint of an OMLT trooper suggesting the Afghans are rather lukewarm to ask for advice. Nuggets of info like that jibe with the not exactly flattering news we have received so far of ANA progress. In fact, a disturbingly high number of reports talk about general inefficiency at best, and outright hostility at worst. It is also quite certain the taleban have infiltrated the ANA, a given underscored today, alas, by the murder of three British troops by a rogue ANA soldier.
Most of the action however clearly was with the six F-16 fighter bombers operating from Kandahar Airfield. The overview reads:
(4) F-16 detachment in Kandahar (OGF):

June 25th: two planned missions, no weapons systems engaged
·
June 26th: two planned missions of which one was retasked to support ground troops in contact with the enemy. Two bombs were dropped [GBU-12's - MFBB]. No collateral damage.

June 27th: two planned missions, no weapons systems engaged.
Also on June 27th: two quick intervention missions in support of ground troops in contact with the enemy. A "show of force" sufficed to end the skirmish.


June 28th: two planned missions of which one was retasked to support ground troops in contact with the enemy. No weapons systems engaged.

June 29th: two planned missions of which one was retasked to support ground troops in contact with the enemy. Strafing with Vulcan cannon. No collateral damage.

June 30th: two planned missions, no weapons systems engaged
Also on June 30th: three rocket attacks on KAF. No Belgian wounded nor damage.
Here's a magnificent shot of one of our F-16's over Afghanistan. This time the PANTERA ('sniper') pod is clearly visible. It represents a sea change compared to the 'old' LANTIRN pod. The armament is standard - I actually do not think the Belgian Air Force in AF uses other bombs than the GBU-12. Apart from that, the imho useless Sidewinders.
This is actually a USAF photo, taken in December 2008, by Staff Sgt. Aaron Allmon. Possibly from a KC-135 tanker.
Belgium has currently some 600 personnel in Afghanistan. While the F-16's have a combat mission, and the EOD unit (often embedded in German columns) and the OMLT teams regularly come under fire, no Belgian unit has as yet seen action or experienced the shock of ground combat like the Brits, Dutch, Danes or Canadians did. The cowardness of Belgian politicians who are otherwise very eager to have the new NATO HQ in Brussels, is appalling. It can even get worse. Negotiations for a new government are currently in a stalemate but there remains a solid chance that the next PM will be
Elio di Rupo
, chairman of the Parti Socialiste. Would this man make it Belgian PM, the Belgian mission in AF would very likely come in jeopardy, or otherwise reduced to a canteen commando.
MFBB.