Two weeks ago my wife and I spent a weekend in Berlin, as we were invited to the 30-year anniversary of the German purchasing organization my company is a member of. On Sunday, a couple of hours before we boarded the flight back to Charleroi, Belgium, a quick sightseeing tour was organized. I took some pics.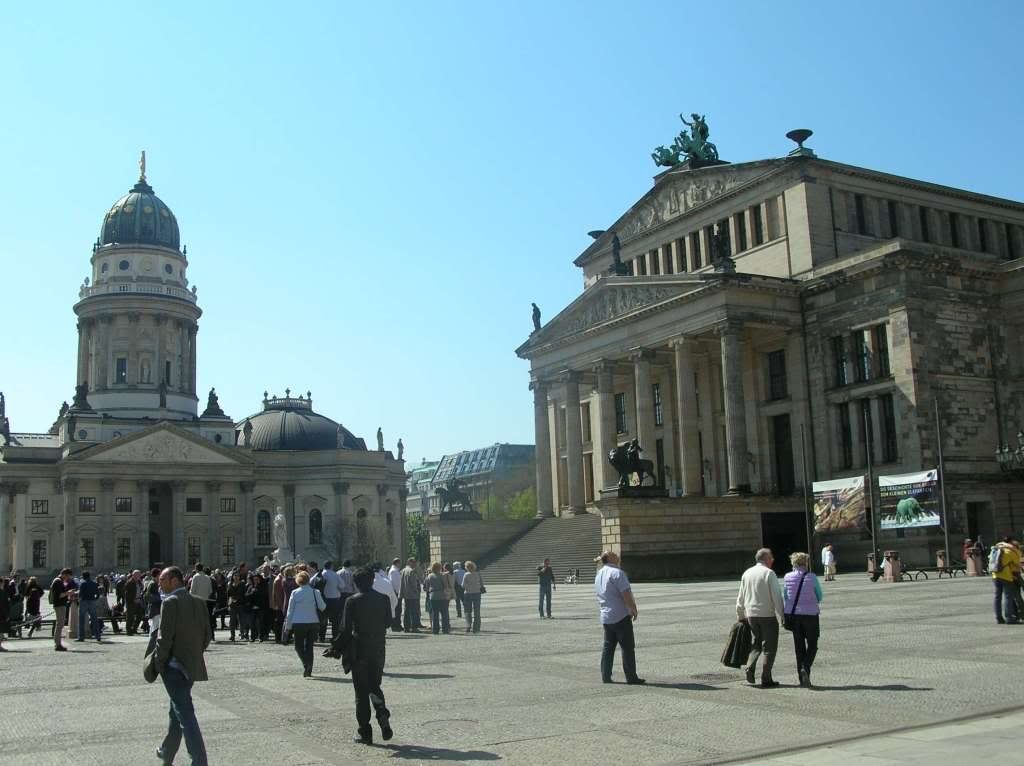 What's Berlin's most beautiful square? Hint: it ain't the
Pariserplatz
with the
Brandenburger Tor
. In my opinion, it's the lovely
Gendarmenmarkt
, dominated by two cathedrals and a concert hall (Konzerthaus). This photo shows you the German Cathedral, built 1708, on the left and the concert hall (1821) on the right. The small statue in the centre is of the famous poet
Friedrich Schiller
.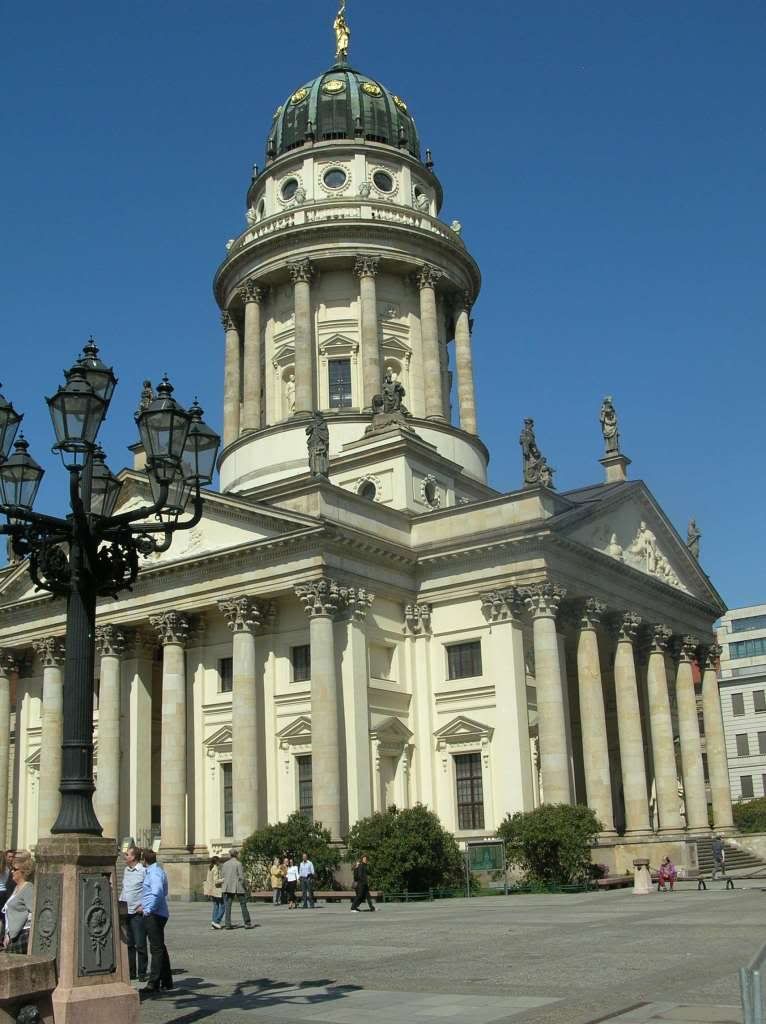 This is the French Cathedral, built between 1701 and 1705 by Berlin's Huguenot community.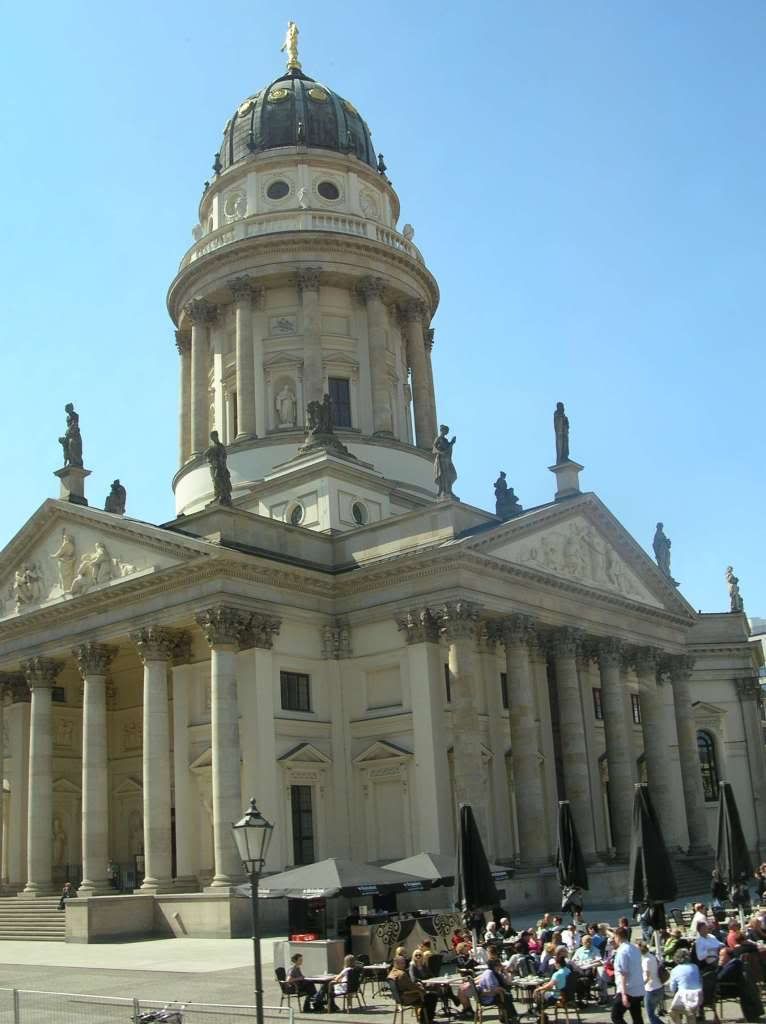 The German Cathedral again. It was designed by
Martin Gruenberg
and built by
Giovanni Simonetti
. Of special interest is the pentagonal structure.
And this is Angie's residence. Hussein eat your heart out. I'm not kidding, this is the official residence of the German
Bundeskanzler
. It's not far from the
Reichstag
, the German parliament.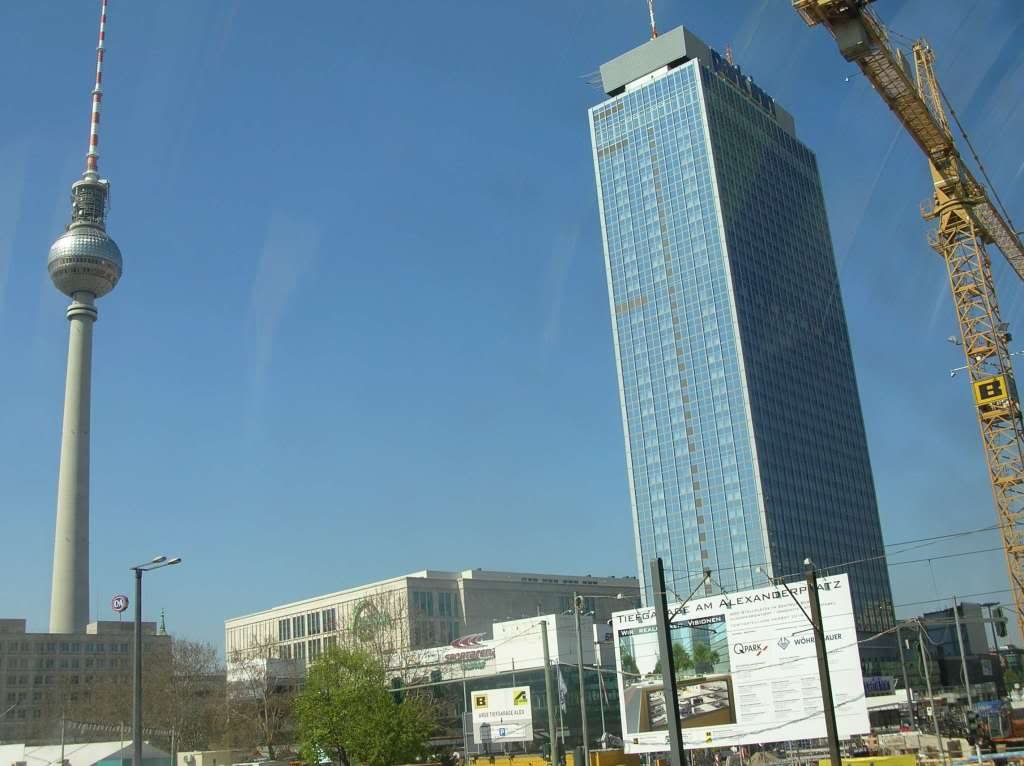 Snapshot of the
Fernsehturm
(television tower), at 368m high Europes second tallest structure. I was inside it twenty years ago, on a schooltrip six months before the Wall came down. This is the
Alexanderplatz
, which Berliners affectionately call simply "Alex". The other building dominating it is the
Park Inn Berlin
to the right, a 125m high hotel built between 1967 and 1970.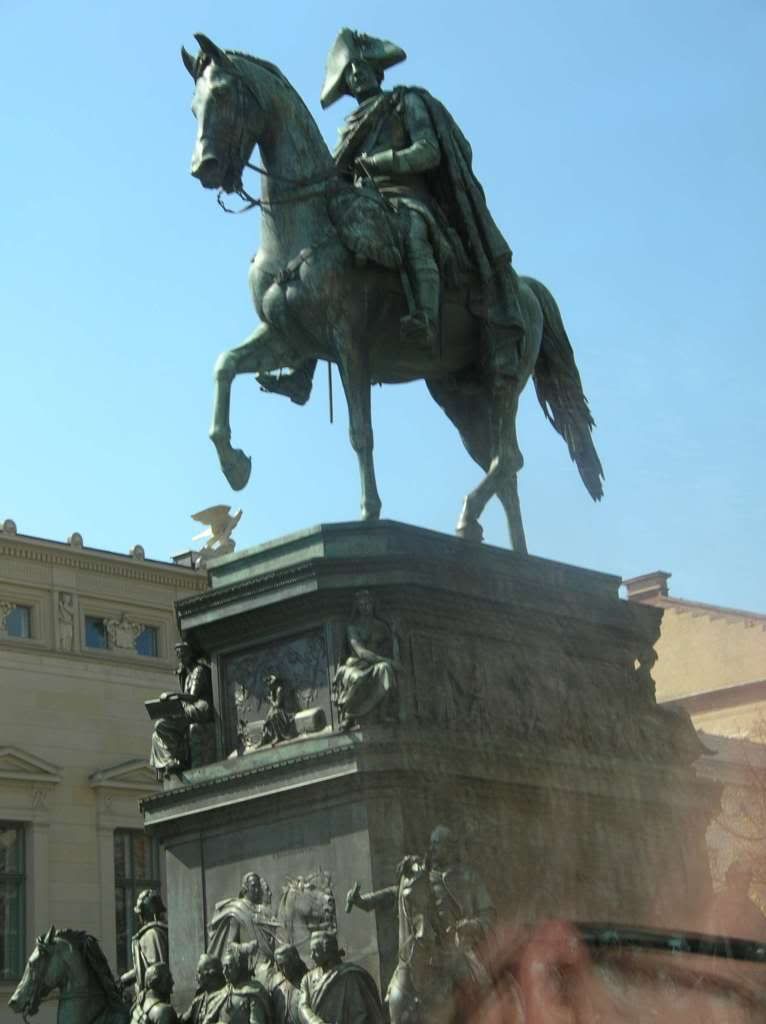 This is a famous statue. It depicts
Friedrich der Grosse
(Frederick the Great) on horseback. Physically, he wasn't all that big. Politically he was truly a giant however. He lifted Prussia up from it status as central European backwater to a major player. Aggressive warfaring brought his country to the brink of disaster, but at the end of the Seven Year War the Russian tsarina died, and circumstances led to his being able to consolidate all his territorial gains. This episode is called the
Miracle of the House of Brandenburg
or something. Oh yeah... sorry for the blur in the right cornder below - pic taken inside a wobbling bus, no time to get out.
Have I something to add? I sure do. When we boarded our plane on Friday morning, on Charleroi Airport, I was witnessing how a seventyish paraplegic woman in a wheelchair had to remove her coat just like we had to, to check her for items that could be used for hijacking a plane. The scene was supervised by three young men of north African origin (moroccans of algerians, very likely the former), verrry politically correct positioned at the end of a conveyor belt where you got your handheld luggage back after it had been scanned. The three behaved rather arrogantly, with one even uttering tarzanlike sounds accompanied by fitting gestures - as if to mock us doofuses, who swallow the whole security shebang while it is their ilk causing the current situation.
And on Saturday, the second day of the conference which I had to attend, my wife took a bus to do some sightseeing of her own in central Berlin. I did not think much of it since I deemed the center muslim-free and therefore safe for lone women.
That evening I saw my wife back in a very upset state - not far from the Potsdamer Platz, while walking towards a bookshop, she had encountered a group of perhaps five or six young Turks who for no reason suddenly started yelling and throwing verbal abuse at her. She was so frightened that she stayed in the bookshop the entire afternoon, thereby forsaking her intended itinerary.
Or, how you cannot escape anymore the debilitating muslim presence in practically all of western Europe.
Sorry to end on a sour note but - that's how it is. And I'm not even mentioning nor providing photos of, our bus trip thru Little Turkey.
MFBB.