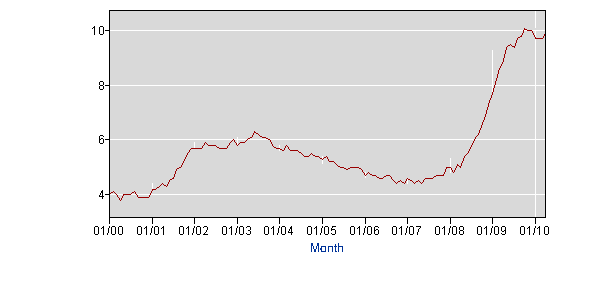 The average unemployment rate under Bush was 4.4%. In January 2007, the Democrats took over Congress and immediately started implementing business-unfriendly laws.
Today, more than three years later, the unemployment rate has skyrocketed to 10.2%. And where once a Bush budget deficit of 400 billion dollars was lampooned, everyone seems comfy now with an Obama budget deficit that's
FOUR TIMES AS HIGH, AND GROWING.
If you voted for the Democrats in 2006 and 2008,
you only have yourself to blame
.
I am warning Americans. You have a president who is destroying your economy, neutering your military, and tearing apart the social fabric. Obama is one years and a half in office. At this rate, your country will be
UNRECOGNIZABLE
at the end of his term.
Hat tip
Common Cents
.
MFBB.