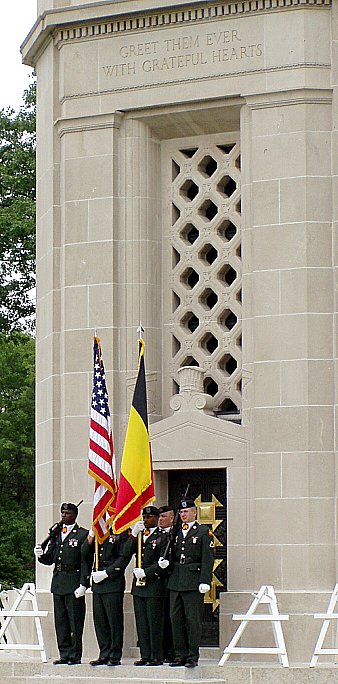 May 25, 2008
. Memorial Day ceremony at Flanders Field American Cemetery,
Waregem
, Belgium. This was my first visit to the cemetery, the final resting place of 368 servicemen who died in World War I, and the smallest US cemetery in Belgium (the other ones are the
Ardennes America Cemetery
in
Neuville-en-Condroz
and the
Cemetery Henri-Chapelle
in
Hombourg
). Flanders Field AMC is basically a rectangular field covering 6.2 acres, with the white stone chapel you see on the photo in the centre. A curtain of trees and shrubbery effectively shields the place from the traffic on the adjacent roads and the activities on the industrial estate lying no more than a few hundred yards away, and lends it a solemn, tranquil and graceful atmosphere. The graves are neatly arranged on four sides, with paths leading between them towards circular retreats with stone benches and urns at three of the corners of the cemetery.
The following video presents a short tour of Flanders Field American Cemetery's landscaped grounds and the architecture and interior of the chapel:
Flanders Field.wmv - windows media video
( 12 MB ). Courtesy of the video the
American Battle Monuments Commission
.
My friend Flemish American was there, together with his wife and kids. Of the VIP's present, the most notable were Belgian Prime Minister
Yves Leterme
and US Ambassador to Belgium
Sam Fox
. This is what the program looked like:
FLYOVERINVOCATION
Reverend Father Frans Verhelst Dean of Waregem
AMERICAN LEGION MEMORIAL PRAYER
Mr. Paul Vande Walle Jr
TRIBUTE
Mr. Kürt Vanryckeghem Mayor of Waregem
TRIBUTE
General Hobbins, Commander USAFEUR
TRIBUTE
The Honorable Sam Fox, Ambassador of the United States of America
PRESENTATION OF THE AMVETSMEMORIAL CARILLON
Mr. Joseph T. Kolano President AMVETS National Service Foundation
ACCEPTANCE OF THE CARILLONDEDICATION ADDRESS
Brigadier General John W. "Jack" Nicholson Secretary, A.B.M.C.
"THE STAR SPANGLED BANNER"
Waregem School Children
LAYING OF FLORAL TRIBUTES
U.S. Army Garrison BeNeLux Waregem Fire Brigade
FIRING OF VOLLEYS
CC Sp. Mat & Prod., Ieper, West-Vlaanderen
TAPS AND RAISING OF THE COLORS
Royal Band of the Belgian Navy
"IN FLANDERS FIELDS"
Miss Brianna Fitch, Brussels American School
JEWISH PRAYER
Rabbi Albert Dahan
BENEDICTION
Chaplain (Major) Jeff Walden
USAG
BeNeLux Family Life Chaplain
BELGIAN NATIONAL ANTHEM
"De Brabançonne"
AMERICAN NATIONAL ANTHEM
"The Star Spangled Banner", Royal Band of the Belgian Navy
RETIREMENT OF THE COLORSPATRIOTIC HYMNS
Secretary, A.B.M.C. Royal Band of the Belgian Navy
Very unfortunately, while at first the weather seemed promising, halfway through the ceremony rain started to fall. A minor nuisance at first, it gradually developed into a embarrassment for all those present, rendering the last tribute and the dedication address inaudible. Still, a group of Waregem school children started to sing the American National Anthem, the "Star Spangled Banner", a tradition since
1923
. I took pictures of that, and it was really moving how these small kids, all soaked to the bone by then (why didn't the organizers think of providing more umbrellas for them) managed to sing it in full. By the time they finished, the rainfall had become a tremendous torrent (I will try to provide photos of that tomorrow). It became so bad that the children had to be whisked away in order to not let them catch a cold. Luckily, after some ten minutes had elapsed, it became a minor dribble again, and by the time it was rabbi Dahan's turn, the sun was peeking through the clouds.
After the ceremony I took a stroll along the graves. A very sobering experience. It noticed quite some soldiers from 145th Regiment, 37th Division. They came from all over the States, but many seemd to come from the state of New York. Also a few pilots from the Air Corps.
By the time I'm typing this, it's twelve past midnight, and my final thoughts on the matter are that it's quite rich to use a catchphrase like "Freedom isn't free", as some important personage did, if you don't really let sink in the truthfulness of that saying.
FREEDOM-ISN'T-FREE.
It's not something you should say to score at some meeting or during a debate. It's something to say standing in front of hundreds of graves with countless names of Noonans, Grzyczaks, Johnsons, Bairds, Hoffmeisters and Leishs on them. Preferably, under a darkened sky heavy with rainclouds, and being cold and soaked wet to the bone. We live in freedom, because they died. At age 18, 19 or 22. Young lives tragically cut short.
May we never, never forget. To all members of the US military, past and present, and of those other armies which liberated us:
thank you for your service
.
MFBB.UPDATE:
photos from the ceremony yesteday, uploaded using Flickr.
Despite the rain, a group of Waregem school children sing "The Star Spangled Banner", a tradition which began in 1923.
When the song was completed, the rain developed into a veritable torrent. Everybody was soaked wet to the bone. It's all Bush's fault.
The final resting place of John Masterson, 27th Division. He fell in August 1918.
PS: this was the first time I used Flickr for uploading and posting photos. Until now, I have been using a personal site (little more than a virtual junkyard, actually) with a maximum of 50MB for photos and other material. That limit has now been reached (actually though it's amazing how I have somehow managed to cram so many photos in it - even though I have also been stealing quite some bandwidth elsewhere). Creating a Flickr account via Yahoo! is simple as pie and all seemed cream and butter until I saw my pics above... of very poor quality now. I took them with a Nikon Coolpix 4800, 4 megapixels effectively, and my photos usually comprise between 700 and 800 kilobytes, giving a very fair resolution. If I had had that resolution over here, you'd be able to see the raindrops falling between the kids, e.g.. Or you'd be able to appreciate their teacher, who was a pretty hot woman. Now however.... the three pics above are barely 27-30kB each. Which is kind of weird, since during the uploading I could see that for the three photos a total of 2.73 MB was transferred. Which, as we see, somehow got lost. So if there's someone out there who can offer some advice to keep the quality, please spill. Thanks in advance.